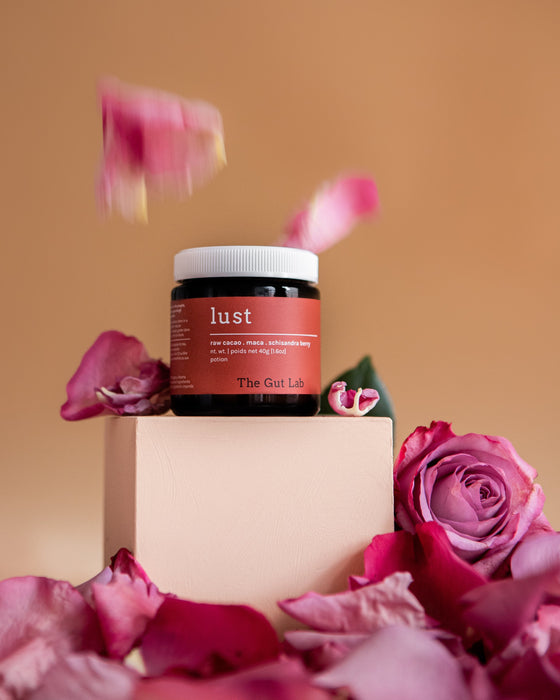 Lust (40g) - 50% OFF
Save

Liquid error (snippets/product-badge line 32): Computation results in '-Infinity'

%
known for aphrodisiac qualities / may boost energy levels, increase sexual desire, libido, + vitality / used to increase mental + physical stamina / reduce inflammation + support the adrenals / may help ease feelings of anxiety + stress!
Was $24.00, now $12.49 - Best By 03/2023
lab notes | add a quarter to half a teaspoon to tea, smoothies, dressings, or soups 
ingredients | (raw cacao, maca root, true cinnamon, ashwagandha root, schisandra berry, damiana leaf)*, love. *organic powder
raw cacao: not only does raw cacao taste heavenly, it is known to be an aphrodisiac + an antioxidant powerhouse. cacao is shown to be rich in iron, magnesium + calcium, + is even said to promote healthy gut flora (love your guts!), which in turn may support a healthy immune system! what's more, cacao has been used to support a balanced mood, + may help with symptoms associated with depression. you truly can have your cacao fix without the guilt!
maca root: this adaptogenic superfood is a member of the cruciferous family (like broccoli + cabbage!). it has been used for thousands of years. this slightly sweet + nutty flavoured root may help balance hormones, has been used to support the immune system, act as an aphrodisiac, + has been said to help to increase focus + energy by regulating the hypothalamus and pituitary gland. maca is known to have all 8 essential amino acids, calcium, magnesium, zinc, iron, + vitamins B1,B2, C + E! talk about an ancient treasure. 
true cinnamon: this beautiful, warming spice is used as an anti-inflammatory, a powerful antioxidant, + an antimicrobial, which may in turn support your immune system. true cinnamon may help support healthy blood pressure levels + improve circulation. what's more, true (ceylon) cinnamon has been used to help stabilize blood sugar levels as well as protect neurons which may help prevent neurodegenerative disease.
ashwagandha root: for thousands of years, this revered ancient plant has been used to help relieve stress, increase energy + brain function, + reduce cortisol levels. it may help to reduce overall inflammation, cholesterol, blood glucose levels + symptoms of depression. ashwagandha is also said to assist in boosting libido, fertility, + increasing strength. now that's incredible. 
schisandra berry: this adaptogenic berry is known as a overall tonic + has been used as a powerful anti-inflammatory + antioxidant. schisandra berry is known to assist with stress which may help with anxiety, chronic fatigue, + stabilizing mood levels. not only that, schisandra may help support healthy energy levels both physically + mentally. 
damiana leaf: damiana was traditionally used to help elevate libido, as an aphrodisiac for men + women alike, + as an overall tonic. it is said to increase stamina + energy levels + may help reduce feelings of anxiety + stress.
nt. wt. 40g [1.4oz]

caution + warnings | not for use while pregnant, if breastfeeding consult with a practitioner prior to use. made in a facility that may also handle eggs, wheat, tree nuts, + peanuts
disclaimer | the information found on this site is for educational purposes only. it is not meant to diagnose, prevent, or cure any disease or illness.