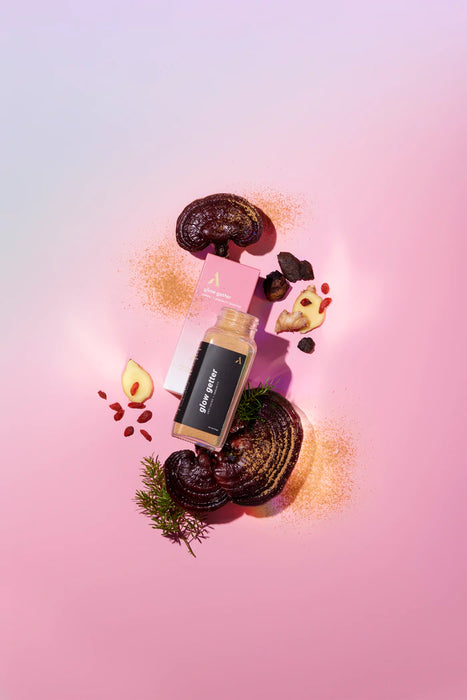 Glow Getter™
Save

Liquid error (snippets/product-badge line 32): Computation results in '-Infinity'

%
One of the major factors in rapid aging and the deterioration of our skin is inflammation. While the sun in small doses is healthy (#vitamind), too much can wreak havoc on our skin. Glow Getter's unique anti-inflammatory combination of cooling yin properties will cater to your complexion's warm-weather needs.
WHAT IT DOES:
Glow Getter's unique anti-inflammatory combination of cooling yin properties from Tocotrienols and He Shou Wu will cater to your complexion's all-weather needs. We've pulled in both Organic Goji Berry, a powerful superfood for a vitamin C boost and Maca which is a natural mood booster to lift the gloom of grey days.
WHAT'S IN IT:
Goji Berry is a natural source of lycopene and has also been called the world's most powerful anti-aging food, with tons of antioxidants, vitamins, and minerals but also contains many unique phytonutrients. Tocotrienols (aka Tocos) is an exceptional source of Vitamin D and E. Valued for reducing inflammation, cholesterol, and supports skin and hair luster and health, and lowering blood pressure. He Shou Wu provides healing support to the liver and kidneys, the two major organs responsible for regulating the skin. As a potent anti-inflammatory, this herb can help treat various problems of aging including wrinkling, hair loss and inflammatory conditions of the skin. Reishi Mushroom is rich in beta glucans, which is critical for immune system function. It not only works its magic on our immune system but also supports gut health with its anti-inflammatory properties to reduce rapid aging on the skin.
TASTES LIKE:
Naturally sweet due to the goji berry, this is one of our blends that is pure yum on its own. Glow Getter is delicious in all things fruity or even in plain water or sparkling water.
PAIRS WELL WITH:
Kombucha, fruit smoothies, and lime + mint water.
DOSE WITH:
You Dew You (formally Haters Say It's Photoshopped), Better Than Botox or Irish Moss.