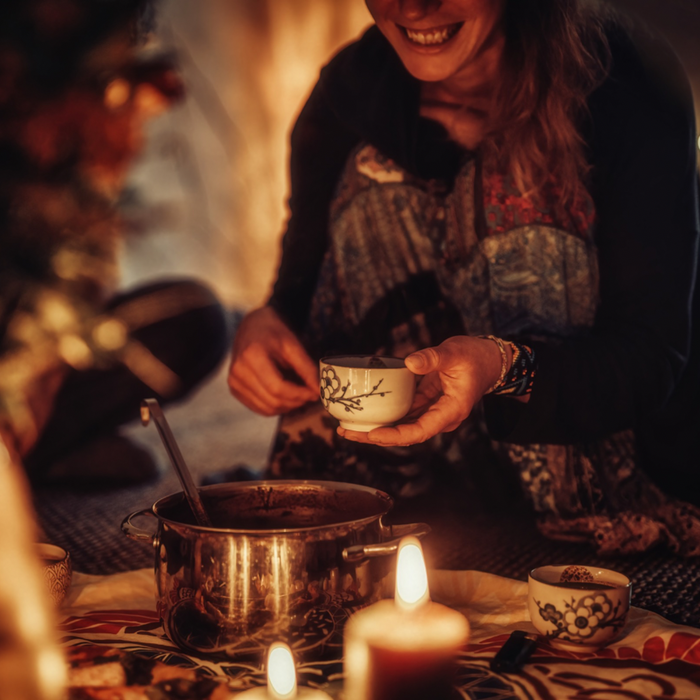 Cacao Ceremony - July 6th, 2023
Lauren Scherloski is coming back to host another 
Cacao Ceremony in July. 
Once we posted her previous ceremony on Instagram it sold out in less than 48 hours!
If you missed out last time, here is your chance to get tickets well in advance. 
Lauren Scherloski is a 400hr registered yoga teacher who has studied in Guatemala and India. She currently co-owns Heartspace Yoga Studio and Solstice Juice Co. with Lauren Hart, where she leads a variety of yoga classes, mostly yin, sound, and mediation based, and where she works at the juice bar daily making fresh health juice for the local community! She has co-facilitated cacao ceremonies in Guatemala and India. She's looking forward to sharing these practices with you! 
Ceremonial grade cacao is used in many cultures for opening the heart and grounding you to nature and spirit. Cacao contains antioxidants, essential vitamins, theobromine and healthy fats. It releases dopamine and increases serotonin which boosts your mood, increases your energy, and enhances cognitive function. 
Learn about the healing benefits of ceremonial cacao and the history and cultural significance of cacao within the mayan culture. Also learn ceremonial practices that you can take and use in your own life, in order to live your days feeling more love, bliss, and connection. 
She will lead everyone through a guided mediation with the use of her crystal singing bowl and we will connect with one another through an intentional sharing circle. 
Leave feeling relaxed, inspired, rejuvenated, and connected to your heart, to your community, and to nature. 


July 6th, 2023
7:00pm - 8:30pm
320 - 6th Street S. 
Lethbridge, Alberta
With each ticket you will receive the following: 
- Complimentary Cacao
- 15 % off any in-store purchases
*All ticket sales are non-refundable. However, if you can't make it, you can absolutely use your ticket towards a future class when providing us with 24 hours notice that you will not be able to attend.*